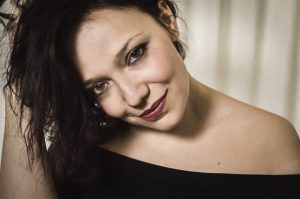 Having previously graduated in Psychology, Cristina Grifone was one of the outstanding graduates of 2008 at the Conservatory San Pietro a Majella in Naples. However, she had already been collaborating with various orchestras and choirs as early as 2006 (in particular the choir Mysterium Vocis), performing in Naples, but also in France and Finland. She performed as a soloist with the Nuova Orchestra Alessandro Scarlatti in numerous concerts at the Parco della Musica in Rome, at Prinzregentheatre in Monaco and at the RAI auditorium in Naples. Specializing in Early Music, she has participated in seasons such as Pavia Barocca, and with the Alessandro Scarlatti association. This latter collaboration saw her awarded the Premio Nazionale delle Arti, in the Early Music section, in 2011. In 2012 she won the Beata Paola Montaldi international prize for sacred music, and in 2013 she was a finalist in at the Città di Bologna operatic competition. During 2014 she performed as soloist in the J.S. Bach Magnificat BWV 243 with Collegium Musicum de Lausanne in the Lausanne Bach Festival. In 2015 she extended her operatic career by performing the role of Emilia in the Haendel's opera "Catone" with the Auser Musici orchestra for the "Opera Barga 2015" and the role of Merlina in the Cimarosa farsa "L'impresario in Angustie" with the Musica Fiorita Ensamble for the Basel Festtage Alte Musik. She also worked frequently with Antonio Florio ensemble, I Turchini, performing at various international festivals like "Actus Humanus" in Gdansk and in the concert season (2013) at the opera in Lausanne. She performed as a soloist for multiple recordings during the past years. In 2013 she recorded for the Glossa label the Gaetano Veneziano's Oratory for the Birth of the Word – "La Santissima Trinità". In 2016 she collaborated with the Musica Fiorita orchestra on the recording of Giacomo Antonio Perti's "Grands Motets" for PanClassic. Recently, in 2017, she recorded with the same ensemble Handel's "Ode for St. Cecilia's Day" also for the label PanClassic. Having moved to Amsterdam last year to do a Masters in soloistic interpretation of baroque repertoire at the Conservatorium van Amsterdam under the tutorship of Xenia Meijer, she has done numerous work collaborations namely with "Cappella Estense", an ensemble sponsored by the prestigious Anner Bijlsma Award presented within the context of the Cello Biennale Amsterdam 2017. With this ensemble she performed as a soloist in various venus including the Muziekgebouw aan 't IJ as well as doing the recording of the CD Partite Modenesi for the label Passacaille. In June 2018 she graduated from the Early Music Voice Department with a mark of 9/10. In the same year she started a collaboration, as a soloist at the show "Scala", with the Scapino Ballet Rotterdam and Combattimento Consort touring around the Netherlands. From 2016 she gained familiarity with contemporary music thanks to the Recitativo Project – a video piece with live recitation and sound, in collaboration with Anglia Ruskin Cambridge University – in which improvisation was a key feature in her performance.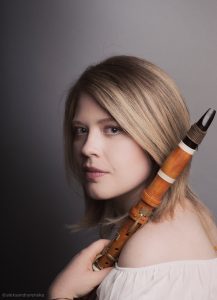 Giulia Zannin (1987) is an Italian clarinetist with international experience performing on both modern and historical clarinets. She finished her post-graduate studies in historically informed performance on period instruments under the guidance of Ernst Schlader at the Staatliche Hochschule für Musik in Trossingen and Eric Hoeprich at the Royal Conservatory in The Hague, and collaborates with the following ensembles: Orchester 1756 Wien, De Nederlandse Bachvereniging, Le Cercle de l'Harmonie, Nieuwe Philharmonie Utrecht, Bremer Baroqueorchester, Northern Consort Groningen, Orchestra Lorenzo da Ponte, Symphonie Atlantique and the Mannheimer Hofkapelle Baroqueorchester. As a chalumeau player she collaborated for an album of unpublished music by Christopher Graupner under the CPO label (Das Leiden Jesu, Passion Cantatas) and performed for the acclaimed Dutch première of "Il Sacrifizio di Abramo" by Camilla de Rossi with De Nederlandse Bachvereniging at the Concertgebouw in Amsterdam. In 2011, she made her solo debut with Mozart's Clarinet Concerto accompanied by the Orchestra della Svizzera Italiana. Soon after, she began working with European orchestras such as Hulencourt Soloists Chamber Orchestra, Haydn Orchestra of Bolzano and Trento, Spira Mirabilis, Schweizer Jugend Sinfonie-Orchester, Orchester der Bayerischen Philharmonie München and Aurora Chamber Orchestra. In 2013, Giulia was awarded a scholarship from the DAAD (German Academic Exchange Service) allowing her to move to Germany. Here, under the guidance of Chen Halevi, she explored the clarinet's contemporary repertoire, finishing in 2015 with a Master of Chamber Music at the Staatliche Hochschule für Musik in Trossingen. She performed in several festivals collaborating with ensembles of international standing in the field of contemporary music such as Klangforum Wien, Ensemble Modern Frankfurt, L'Instant Donné, and Donaueschingen Off. As the Founder of the Ensemble La Favorita, she aims to discover new sonorities and offer the audience lesser known repertoire from the 18th century. Awarded in three national competitions for young musicians, she has been supported in her academic studies from scholarships offered by the following foundations: Schweizerische Interpreten-Gesellschaft, Fritz-Gerber-Stiftung für junge begabte Menschen, Erasmus Program and DAAD. Giulia is teaching Historical Clarinet and Chalumeau at the Accademia di Musica Antica of Feltre and plays on a soprano chalumeau made by Agnes Guéroult in Paris.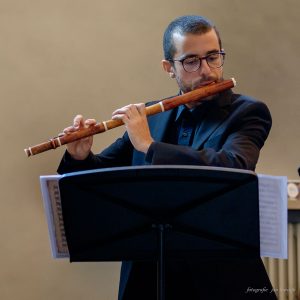 Tiziano Teodori graduated in modern flute at the Conservatory of Music "Alfredo Casella" of L 'Aquila with Luigi Tufano, with whom he completed his two-year Masters in Chamber Music with a thesis on "Bach and the 1-key flute". At the same time, he finished his studies of Phony at the "Roberto Rossellini Institute for Cinematography " in Rome. He gives concerts in Italy and in the Netherlands where he is currently a student of traverso at the Royal Conservatoire of The Hague with Wilbert Hazelzet and Kate Clark. He has collaborated with the Baroque Orchestra Orion Bach Ensemble as first flute; with the Ensemble Les Petits Riens at the Reinken Early Music Festival and with the Ensemble Seraphim at the "Renaissance Sounds Young", as soloist and as student with the Orchestra of the 18th Century. On modern flute, projects are born from previous collaborations with other musicians: "Pollution" with guitarist Andrea Cauduro with whom he produced the album "Blu Pollution"; "Zoutman Winds" with oboist Federico Forla with whom he participated in the festival "Fete de la Music" in Geneva; and "Amniotic Gap" with Ruben Brovida, Stefano Sgarbi with whom he played at "Bizarre Festival" in Rotterdam. During the years, Tiziano has participated at many masterclasses with distinguished masters such as Frank Theuns, Olivier Schneebeli, Anne Smith, Andrea Oliva, and Luigi Tufano.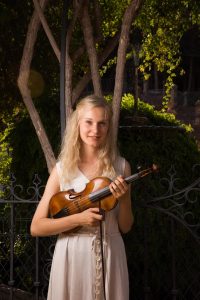 Lena Rademann is a Baroque violin and viola player and passionated chamber musician. Currently, she studies at the Royal Conservatoire of The Hague with Enrico Gatti and Kati Debretzeni. As an active orchestral player, Lena enjoys covering a great range of styles, from baroque to early romantic music. She has been a participant of international projects such as Hofmusikakademie der SWR-Festspiele (Midori Seiler), EUBO (Lars Ulrik Mortensen), JSB Ensemble (Hans Christoph Rademann, Jos van Veldhoven) and OFJ baroque (Rinaldo Alessandrini) and she has played in various early music ensembles in Germany, Belgium and The Netherlands, e. g. Margaretha Consort, Bell'Arte Salzburg, Musica Gloria and Michaelis Consort, among others.
As a member of different chamber music groups, Lena had the opportunity to perform in international festivals, for instance Oude Muziek Utrecht (Fringe), Musica Antiqua Brugge (Fringe), ECOS Festival, as well as during the International Young Artist Presentation Antwerp. In ensemble competitions, several of her groups have been awarded with prices, such as Gebrüder Graun Preis (DNMO chamber ensemble) or Sonderpreis des BR Klassik in Deutscher Musikwettbewerb 2019 (AMA Consort). In 2018, her ensemble AMA Consort won the Audience Award of Utrecht Festival Oude Muziek Fringe.
Lena has been supported by a scholarship of Deutscher Akademischer Austauschdienst.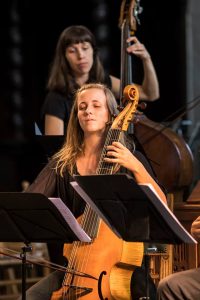 Anna Lachegyi was born in Hungary and started to play the cello at the age of five. She received her degree in performance on cello at the Debrecen Academy of Music in 2012, where she studied in the class of Ditta Rohmann.She began her viola da gamba studies with Sándor Szászvárosi six years ago and since then she has taken part in several festivals in Europe such as Utrecht Early Music Festival (Netherlands), Femas Early Music Festival of Sevilla (Spain), Early Music Festival of Csíkszereda (Romania), Börzsöny Barokk Days (Hungary) or Szalone Dni Musyki (Poland). In 2017 she won second and third prizes with her ensembles in the La Stravaganza early music competition in Romania. She is a student of Mieneke van der Velden and Philippe Pierlot at the Royal Conservatory of The Hague where she plays baroque cello as well in the class of Caroline Kang.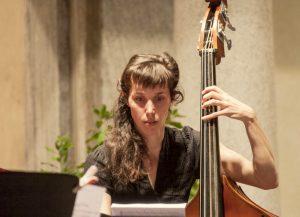 Eva Euwe studies historical double bass and violone with Margaret Urquhart at the Royal Conservatoire in The Hague. She received her Bachelor diploma from the Utrecht Conservatory, where she studied modern double bass with Quirijn van Regteren Altena and historical double bass bass/violone with Joshua Cheatham. Eva has a passion for historically informed performance practices and ensemble playing, but she also loves the modern and contemporary repertoire and tries to combine these careers. She works as a freelance bassist with several ensembles and regularly performs with top HIP musicians in Holland. During her bachelor studies, she received wonderful masterclasses from, among others, Carol Harte and James Oesi. In 2015, she participated the NJO, conducted by Xian Zhang. The modern double bass she plays is built by Harry Jansen and borrowed from the Dutch Musical Instrument Foundation. For her work in the historical field, Eva uses a Mittenwalder double bass from 1890 and several bows that are copies of original bows from the baroque and classical era.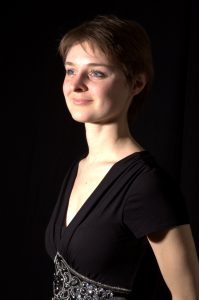 Henriëtte Wirth studied musicology at the University of Utrecht, piano at the Conservatory of Utrecht, harpsichord and fortepiano at the Royal Conservatories of Brussels and The Hague. She wrote a musicological thesis about hear great-aunt Janny van Wering, the first professional Dutch harpsichord player in the Netherlands. Besides her studies, Henriëtte is an active chamber music player. Since 2008 she performs regularly with the Arcadië Trio (clarinet, cello and piano), in 2014 she formed Ars Mirabilis, a professional baroque orchestra based in Brussels and since 2017 she is the organ player of the Castello Consort, a young ensemble specialised in 17th century music. Besides playing keyboard instruments, she plays baroque harp in the ensemble Airs France and she sings renaissance polyphony. Since 2007 Henriëtte is a teacher at the cultural centre of the University of Utrecht, teaching piano, harpsichord and accompaniment